As a member of THE CARPET FROGS, Sean is very excited to have the opportunity to contribute to this great band
VOCALS, DRUMS
As a member of THE CARPET FROGS, Sean is very excited to have the opportunity to contribute to this great band (and gain acceptance into their much-coveted social inner circle as well ;-)). Replacing very popular founding member Laurence Grecch, who left amicably due to health and career concerns,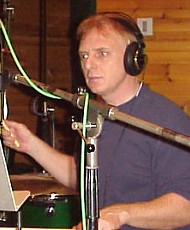 Sean had been Laurence's main substitute drummer for nearly two years, joining permanently in May 2001. There was much curiosity, especially from women regulars, during Sean's first few months (i.e., "who's that girlie-man sitting where Laurence's supposed to be?!! - We want Canolo!!") but acceptance gradually came and all was well.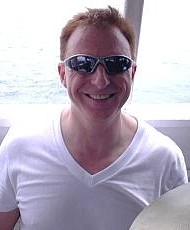 Coming mainly from a rock, blues, and country playing background (although he was a member of the Toronto Youth Symphony Orchestra during its first two years in MCMVXXV!!), he began 'Rock School' full-time as the youngest member of the regional Ontario pop favourite DOC SAVAGE. Eleven years later, and still the 'new guy', the band split up and he hooked up with Q107 Homegrown Contest winner MARK JAMES FORTIN. This lead, the following year, to joining the ROBBIE RAE band, where he worked with future Carpet Frogs bassist Jeff Jones in the first of several bands. When Robbie and Jeff were invited to join Saga-offshoot GNP, the remaining members carried on as blue-rock outfit THE JONESES (sorry - not a Jeff Jones tribute band - although we did worship from afar!). After five years of playing the blues, Sean freelanced for a time - played with a host of different bands as a 'sub' drummer in the Toronto area, including the CAMEO BLUES BAND, funksters NAKED BRUNCH, Eagles tribute DESPERADO, and classic rock units JOE COOL and the PETER LAFFERTY BAND.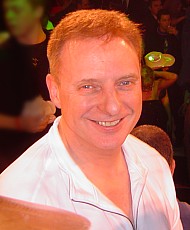 Sean then settled into a seven-year association with GTA-favourite, CARMELA LONG, where he met and befriended future Carpet Frog Michael Zweig, where they discovered a mutual love of well-crafted, quality pop songs and a simple setup ('the Rack' was always welcome, however!). When singer Nick Sinopoli made the offer the join 'the Frogs' full-time, Sean was ready for a change and a new challenge. He looks forward to a long and prosperous relationship with his old, and new, bandmates!