Michael Zweig has been writing and performing for more than twenty years. He got his start in the late 70's
VOCALS, GUITAR
Michael Zweig has been writing and performing for more than twenty years. He got his start in the late 70's playing guitar for such local legends as Ray Materick, Lisa Hartt, Peter Foldy, and Bob Segarini. He first became a lead singer in one of the Downstairs El Mocambo's favourite bands, The Stingers, where he re-discovered his love of 60's music. In 1984 he signed to Ready Records under the name Michael Zee, and recorded his first record, an EP, called "Five-Seven, Maybe Five-Eight", which spawned the mini-hit "I've Got News For You". In the middle of recording his follow-up album, Ready Records went under.
Throughout the rest of the 80's, Zweig toured Ontario and Eastern Canada with a band called The Knockouts, a skinny tie, all 60's music band. They also served as backup band for visiting Old-Timers, such as Peter Noone, Del Shannon, Bo Diddley, Lesley Gore, and others. In '89, The Knockouts became Seventh Son, and signed to the don't-blink-or-you'll-miss-it label, Justin Entertainment, and released a self-titled album. This album contained two more mini-hits, "She's Insane", and "Going Downtown". The band dissolved shortly after that.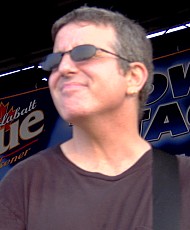 In the 90's, Zweig wrote, played, sang jingles, moved to L.A. and back, and finally started his own jingle company. His first EP was re-released in Germany on Long Island Records (which also went under), and then recorded another album, "Candyland", again as Michael Zee, which is available on Pacemaker Records.
He can currently be heard every Saturday night on Hockey Night In Canada as the co-writer and performer of "The Place'll Be Rockin' 'Cause It's Saturday Night". He also co-wrote and performed the Maple Leaf's theme "Go Leafs Go". After playing around Toronto for a number of years with Carmela Long, and other local bands, he joined The Carpet Frogs, where he intends to remain, unless they too go under.